For Yara
Submitted on Wed, 12/10/2014 - 14:36
Since 21st June 2014 Yara Sallam, WLUML networker and award-winning human rights defender has been held under the unconstitutional 'Protest Law', along with six other women arrested on the same occasion. Countless more are being held on similarly spurious charges in a wave of crackdowns on civil society and dissenting voices in Egypt. On 26 October 2014, a Cairo Misdemeanours Court sentenced Yara - along with 22 other human rights defenders and protesters - to three years' imprisonment, a further three years' police monitoring, and a fine of 10,000 Egyptian Pounds each. An appeal has been launched to overturn the sentence, but they remain behind bars.
Early this year, we wrote to Yara and the six women who she was arrested alongside to express our hopes for their release. Through contacts, we sent the letter to Qanater prsion where they are being held. However, the letter did not make it passed the prison security, which we are told has been tightened in recent months. Today, on the occassion of Human Rights Day, we publish our letter here for the world to see, as we continue to hope and advocate for their release and for the abolishment of the repressive 'Protest Law'.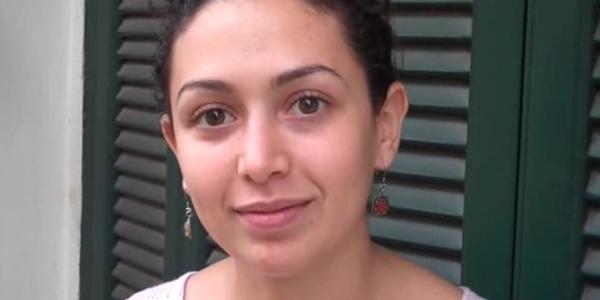 ---
Dear Yara, Sanaa, Salwa, Nahed, Hanan, Samar, and Fekreya (Rania),
I am writing to you on behalf of everyone in the international network, Women Living Under Muslim Laws (WLUML). We were devastated and appalled when we heard the news of your arrest. Since you were detained, not a day has gone by that we have not been thinking of you. Our network was formed in response to the oppressive forces of politicised religion, but we can never forget that any kind of authoritarian regime poses a threat to society, and to women. Your current situation is a terrible reminder of this.
These are difficult times; we are receiving increasing reports of threats to women activists and clampdowns on civil freedoms from many of the countries that our networkers are operating in. The women activists that make up our network understand how difficult it can be to stand up to oppressive forces - to take to the streets for what you believe in while knowing the risks you face. Our networkers have asked that we pass on their messages to you - they are included below for you to read. Some are addressed specifically to you, Yara, as you are already a part of the WLUML network, but the spirit of these messages is sent to each of you. We hope they will strengthen you all in this difficult time.
We salute your bravery and send our heartfelt support to each of you. Stay strong and know that women and men across the world are mobilising for your release and for your voices and struggle to be heard.
In solidarity,
Fatou Sow
International Director
Women Living Under Muslim Laws (WLUML)
Collected Messages From WLUML Networkers:
To our sisters in prison,
This is a path that you must be strong on, and nothing should kill your spirit or silence you when you are on the grounds of justice. The belief in the truth will strengthen you as you are with others who you should enlighten. Let those others also share their stories of injustice in the prison and sometimes their ordeals at the hands of those who kept them behind the bars. The whole world is with you. Remain focused, strong and be resolute. You are leaders and these patriarchal tactics should not deter you.
May Allah bestow guidance and protection over all of you.
Best regards
Isatou Touray
Executive Director
GAMCOTRAP, The Gambia
To The Courageous Seven,
All of us from around the world and certainly here in Canada have been applauding the people of Egypt for the brave steps they have taken toward bettering the country and improving the lives of Egyptians. So when the new government arrested the seven of you – all human rights activists who have led the way in making the country a proud democracy, it was a shock as well as a huge disappointment. When activists such as you, Yara who have brought world-wide attention to Egypt and made the world realize that Egyptians are ready for change and prosperity, are tossed into jail, it makes us lose faith in the Egyptian process. It makes us think that the new leaders of this great country are ill prepared for the job. I write this letter to you hoping to add my voice to the furious and sorrowful protests that are being heard from Canada to Cairo. I urge everyone speaking on your behalf to make the government understand they are giving Egypt a black eye with their distorted version of justice. And I send you my support and promise that we will not rest until all of you are free and back to the work you do promoting the human rights that Egypt signed onto. My thoughts and concerns reach out to you brave women who have been incarcerated unfairly and unjustly. The world is cheering for you and demanding your release.
Sincerely,
Sally Armstrong
Journalist
Toronto, Canada
Dear Friends,
It is with sadness that I write this letter to express solidarity. Sad because Ramadan is meant to be the month of forgiveness yet our friends and many innocent people are victims of abuse. I join my sisters to give words of courage to those behind bars to maintain their faith and focus.
In solidarity,
Amie Bojang-Sissoho
Programme Coordinator
GAMCOTRAP
The Gambia
My Dear Sisters!
We salute your courage and your fight for justice. Don't forget! Since the advent of Islam, it's always been a fight for justice and dignity of 'Mustadifun with Mutakkabirun'. Mustadifun represents weaker but who are for truth, compassion and justice who successfully brought revolutions and Mutakkabirun as always the powerful and the unjust the one who can suppress the voice but can never succeed. We are all praying for you and all those sisters who have been going through the atrocities and injustice and we are with you in spirit. Sister! Allah (swt) protects you and you serve as inspiration to many of us.
Qutub Kidwai
Activist - Muslim Women's Islamic Rights
Regional Coordinator, Asia, United Religions Initiative ECOSOC
Mumbai, India
Dear Sisters,
The fact that women around the world face discrimination and injustice is testimony to our power and strength. Empowered women like you are threats to patriarchy and injustice. It must be hard, if not impossible, to keep hope and believe in one's power while in prison and I am sure I cannot even imagine your pain and discomfort right now, but your sisters everywhere have faith in you. On behalf of myself and other sisters in Afghanistan, I send you love and energy and salute you for becoming forces to reckon with, threats to patriarchy. We hope you will soon rejoin us to continue our vital fight for equality.
Peace,
Noorjahan Akbar
Kabul, Afghanistan
Without people like you the world holds no hope, without your faith in humanity, without your strive to make dreams happen, and justice prevail, we would not have the strength to aspire and persevere. It is because of you that we can believe, that we are invited to see a more just and beautiful world, and to strive along your side to make it happen. The dreamers of the world find the courage to rise, to resist, and to change because of you. Shukran Yara, Shukran Sanaa, Shukran Salwa, Shukran Nahed, Shukran Hanan, Shukran Samar, Shukran Rania. We are with you, beside you, in our dreams, in our struggle...we are with you on this journey and will not rest until the last brave and honourable woman and man is released.
Yasmin Ghrawi
WLUML International Coordination Office
London, UK
I am deeply concerned at your incarceration, and the plight of all activists that are currently detained in Egypt. It goes against fundamental human right of expression that women like you are being incarcerated for fighting and standing up for justice. I hope that Egypt will honour its commitment to the right to expression and freedom of speech.
Fauzia Viqar
Shirkat Gah Women's Resource Center
Pakistan
Our heart and prayers with you, don't give up hope... Hope is power
Jihan Amedi
Warvin foundation for Women's Issues
Iraqi Kurdistan
Dear sisters,
I cannot imagine how it feels to have your freedom taken away from you for having committed no crime other than standing in public advocating justice. I want you to know that there millions of people around the world who know that you have done nothing wrong, and that the only crime here is your incarceration. Although I have never met the majority of you (Yara we met for a moment in Cairo last December. It was so brief that I'm sure you don't recall, but I remember your smile very vividly!), my heart goes out to you all. We will not stop thinking of you, spreading awareness about your situation, and applying pressure for your release.
Sending you love and hugs,
Isabel Marler
WLUML International Coordination Office
London, UK
Your stance for justice has built momentum. You are the pillar for the voiceless. The world is watching. Note that we are with you in spirit. Share our love with all.
Ramatu Ahmed
Executive Director, African Life Center
New York, USA
You are not forgotten, you are remembered every day. I miss your smile and power.
Nihal Saad Zaghloul
Cairo, Egypt
Admiring your courage, thinking of you, supporting and loving you
Codou Bop
Coordinator for Groupe de Recherche sur les Femmes et les Lois au Senegal (GREFELS)
Dakar, Senegal
Dearest Yara,
You are in my thoughts and I pray that you are finding strength to carry on.
Your passion in what you do means so much to very many of us. Thanks for your efforts to make the world a better place.
A quote I read by Assata Shakur: "The only way to live on this planet with any human dignity at the moment is to struggle."
Power, solidarity and much love!
Minna Salami
Activist and Blogger
Nigeria/Finland
Teach them that freedom is within your heart, where they will never be able to reach, or touch. Proud of your position, praying night and day that Allah keeps you safe.
Your Sudanese brother,
Tarig Mustafa
Activist
Khartoum, Sudan
To Yara and all of the equally amazing women,
Lighting a candle for you in my heart and hoping the light reaches you in your moments of darkness. You are not forgotten and neither is your sacrifice. You are not alone. May Allah's angels form a shield of protection around you and keep you safe from harm.
All my love
Huda Jawad
Activist and Programme Director
Al-Kheoi Foundation, London, UK
You give us hope and courage. We send love and stand for you and with you
Best
Fahima Hashim
Salmmah Women's Resource Centre
Khartoum, Sudan
Yara: You, and all those who stand with you, are an inspiration to all of us throughout the world who hunger and thirst for justice. Your efforts will not be in vain. I will think of you every day.
John Carrick Greene
St. John's, NL, Canada.
Yara - I have heard so much about you and respect so much what you do. I look forward to meeting you in person and hope that day will be soon!! Stay strong!!
Ayesha Imam
Women's Human Rights and Sustainable Development Activist and Consultant
Kano, Nigeria /Dakar, Senegal
Yara...
Missing you badly. Waiting for you. We documenting what happens in Egypt for you. Love you. You are giving us stress.
Salam
Fatou Sakory
Cairo, Egypt
You are not alone. You are contributing to a better future. We all love you and we are thinking of you.
Zaynab Elsawi
Salmmah Women's Resource Centre
Khartoum-Sudan
I'm from Saudi Arabia and your selfless struggle for a just and democratic country is a wonderful inspiration for all of us. Your struggle will never be forgotten and you are making history and reshaping a new Egypt for all...
Hala Al-Dosari
Researcher in Health Services
Saudi Arabia
Dear Yara and fellow sisters,
I am a WLUML networker and self-care trainer who grew up in Egypt, and I love Egypt very much. I thank you for your courage in standing for the women and the men of Egypt as you take your stand for equality. I thank you for your courage in being willing to make sacrifices and doing so with resolve.
We see you. We honor you. We thank you. We will not forget you, and we will continue to agitate and advocate for you. We will continue to work and fight for you. We see you and we honor you.
Please try to take care of yourselves -- practice some yoga and deep breathing, simple meditation. I like to image myself surrounded by an egg of golden light -- the shell of the egg is a thick golden crust so I can't be disturbed. I also like to meditate and imagine my spine is a column of light, and I ground myself to Earth and heaven. Or, my heart is a bright light, and as I breathe in, it gets brighter and as I breathe out, the light expands. You are love and light, if you chose to be: no one can stop you.
I know that it feels scary and like you may not have control over anything. That is probably true of your outside, material circumstances. But what you do have sovereignty over is your heart. You are the queen of your heart, and I pray that your heart is safe and well.
We are One.
Elie Calhoun
Dakar, Senegal
Dear fellow activists, many around the world are thinking of you as you spend the summer in darkness and heat. I recall my grand-mother, arrested during the fight for independence back in the 1950s, and her telling me about the tricks she designed to keep strong while in jail. I hope you each found your own --personal and collective-- ways to pass the days and make them bearable. Please try to catch some of the thoughts we are sending you: thoughts fly like birds, they can reach across the walls.
Anissa Hélie
Activist
Algeria/NYC
Thank you for inspiring us, I admire your strength Yara.
Much love to all of you.
Sanaa Makawi
Salmmah Women's Resource Center
Khartoum, Sudan
Dear Yara and Friends,
We send you all our hopes that justice will prevail, and we send you our respect and our gratitude for your courage and our warmest sisterhood. We know that your spirits are stronger than the bars around you, and this knowledge gives us strength too. We hope you will be home very soon, and until then, you will be in our thoughts every single day.
Sincerely,
Karima Bennoune
Professor of Law, University of California-Davis School of Law
WLUML Board Member
USA
Yara and friends, your courage and strength is truly inspiring and humbling. We're with you! With love and hope,
Rima Athar
Researcher on Sexuality & Human Rights
Montreal, Canada
Dear Yara,
I believe in the role of law and without that we will not be able to defend our rights... you absolutely challenge this, challenge the whole system by your position against the protest law. This is our responsibility but it takes huge courage to do that, to stand against the dictator and you did it in very courageous way. Just keep it up - you are not alone, you are so brave and inspiring.
My Respect and Solidarity,
Hikma Ahmed Rabih
Human Rights Lawyer
ACAL
Sudan
Yara you are a radiant person, your smile and strength and hard work are contagious and inspiring. We just miss you terribly.
Sally Zohney
Cairo, Egypt
To you who struggle to make the world a better place – THANK YOU.
Even if we are in different countries, a better world for you, is the same as a better world for me, for us all. So thank you for your bravery, your vision, and your inspiring actions. We are thinking of you often here at the WLUML International Coordination Office, holding you in our hearts, and praying for your safety, and your release.
Wishing you strength, love, peace of heart. Standing with you in solidarity.
Rose, Anthonia, Janet and Aneela
WLUML International Coordination Office
London, UK