Efua Dorkenoo OBE, the 'incredible African female warrior', has died
Efua Dorkenoo, widely seen as the mother of the global movement to end female genital mutilation, has died after undergoing treatment for cancer, her family have confirmed. She was 65. Dorkenoo – known affectionately to many as "mama Efua" – was a leading light in the movement to bring an end to FGM for more than 30 years, campaigning against the practice since the 1980s.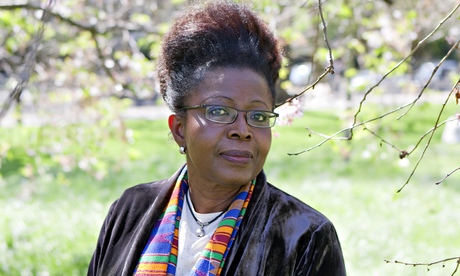 Photo credit: Graham Turner for the Guardian
Efua Dorkenoo OBE, whose many achievements include co-founding FORWARD in 1983, writing the key text on FGM in 1994 and campaigning on the issue through her time at the WHO and Equality Now.
The girls' and women's rights campaigner saw the progression of the movement to end FGM go from a minority, often ignored, issue to a key policy priority for governments across the world. Proof of this arrived with the launch of The Girl Generation on October 10 – a major Africa-led campaign to tackle FGM across the globe, run by a consortium of charities and organisations and funded by the department for international development. Dorkenoo – the natural choice to lead the consortium, wrote simply on the day of its launch: " Finally, The Girl Generation: Together to End FGM is here, and I hope you like it." A week later she died in hospital.
Dorkenoo was born on 6 September 1949 in Ghana, but moved to London when she was 19 and became a staff nurse in various London hospitals from 1977. Working with African women in the UK, she became aware of the health and mental complications that result from FGM and began campaigning against the practice with the human rights organisation Minority Rights Group.
She went on to gain a masters degree from the London School of Hygiene and Tropical Medicine and was an honorary senior research fellow at the School of Health Sciences at City University, London.
In 1983 she co-founded FORWARD (The Foundation for Women's Health, Research and Development), which became a leading organisation in the battle to raise awareness about FGM. The procedure, which still affects more than 125 million girls and women worldwide and is widely practised in 29 countries in Africa and the Middle East, was outlawed in the UK in 1985. She published a seminal text on FGM – Cutting the Rose: Female Genital Mutilation: The Practice and Prevention, in 1994.
Dorkenoo was instrumental in getting FGM on the agenda in ministries of health while working at the World Health Organisation from 1995-2001, and went on to become the advocacy director and then senior advisor on FGM at the human rights organisation Equality Now. She was awarded an OBE in recognition of her campaigning work against FGM.
End FGM campaigner Nimko Ali – who worked closely with Dorkenoo at the Girl Generation and is an FGM survivor – said the veteran campaigner had been the inspiration for much of her own work against the practice.
"Efua was an amazing woman – that term is used lightly but her passion and commitment to the cause were truly amazing," she said. "She started campaigning so that girls like me would not be cut in future, and thanks to her generations of girls in the future will not have to go through FGM."
Dorkenoo had not only changed policy in the UK and overseas, she had made a personal difference to many survivors' lives, she added. "She was a giant on whose shoulders we stand, she prepared the way for us, and even though she did not see the end of FGM in her generation, it will end – and that is thanks to her."
Leyla Hussein, co-founder of Daughters of Eve with Ali, said the formation of an African-led movement against FGM was Dorkenoo's lifelong dream and despite ill-health her last months were spent visiting everyone from politicians to village leaders across the world. "The Girl Generation was Efua's baby and she had been trying to make it happen for 30 years," she said. "Last week Efua gave birth to it, with every last breath she had she worked to make that happen. She was an incredible African female warrior and she never gave up."
Brendan Wynne, media manager at Equality Now said: "Efua literally changed the course of history, but she made you feel like you could do so too. She banged on doors for decades – usually by herself – but never gave up. She was the most amazing friend you could hope for and now has a dedicated network of inspired and driven people to take her work on and finish the job she started." Dorkenoo leaves behind her husband Freddie and sons Kobina and Ebow.