China: setting the new standard for women in top jobs?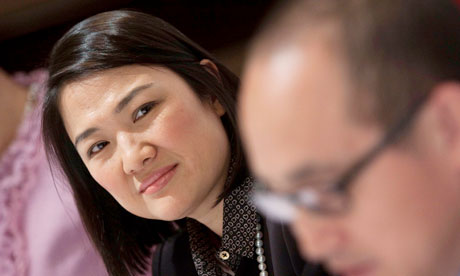 Zhang Xin, chief executive of Soho China, says it 'feels like anything is possible' for women in China. Photograph: Bloomberg/Bloomberg via Getty Images
I have been envious of Chinese economic growth rates for as long as I can remember. If a recent report published by Forbes magazine and Grant Thornton is to be believed, I now have even more to be envious about.
According to this alarming report, 51% of senior management positions in mainland China are held by women. This places China at the very top, miles ahead of the 24% global average rate.
When I spot the UK's relative position in this report, I am astounded. Not only do we lag significantly behind China, with a mere 19% of senior management positions held by women – we also feature in the bottom ten. And it gets worse – we are alarmingly close in the rankings to India; a country where discrimination against women is deep-rooted and widely prevalent.
I am both intrigued and disturbed by this report. What is China doing to support the progression of women that we aren't?
One commonly cited school of thought evolves from the political and social context of China. The emancipation of women has been a longstanding political issue in China; particularly since the People's Republic of China was founded in 1949. Since then, the communist parenthesis has strongly encouraged the employment of women outside the home.
As a result, China was one of the first countries to ratify the UN International Convention on the elimination of discrimination against women. It was one of the first countries to implement legislation specifically for the interests of women. It was after such laws came into force that women began to seek employment in state owned enterprises and corporations.
During the last few decades, however, large numbers of women working along production lines and other firms have been laid off and left in poverty. According to the Global Entrepreneurship Monitor women in such scenarios are pushed into entrepreneurship. This "poverty push" often serves as a real driver for women to succeed.
However, Alpesh Patel, the British government's senior dealmaker for China and author of the female entrepreneurship book Our Turn, strikes a note of caution here. "In my capacity as the dealmaker responsible for India, China, Malaysia and Singapore, I do not recognise this 51% statistic. Even in cities such as Beijing and Shanghai, I haven't seen women holding senior positions," he said.
"If the 51% statistic does hold true, I would stress two points for the UK to consider: are women in the UK falling behind because they chose to? Or has the one child policy in China led to more women being forced into becoming the breadwinner?"
These observations lead me to draw the following conclusions:
1. We need to do more to support any policies and targets which seek to address this issue in the UK. The social and cultural revolution in China and principles of communism meant that China was able to achieve such targets that would never be palatable in western liberal democracies. In the UK, even positive discrimination targets are seen as a negative form of intervention.
2. We need to ensure that equality measures are relative. While a 2% year-on-year growth may indicate progress, this may not be the case when other countries are reporting double-digit growth rates.
3. We need to change our mindset and believe that we women can go further. Zhang Xin, CEO of SOHO China, said that "in China, no matter what industry you're in, you can try something new and put all your thoughts into doing so, because nothing was previously there. It still feels like anything is possible".
4. This is a complex issue which hasn't been adequately tackled in the UK. We have a long way to go.
I look forward to reading next year's report and seeing the UK shift from the bottom ten category into the top ten. After all, anything is possible.
Aekta Mahajan is a Senior Manager at the Cabinet Office, where she leads on a range of government priorities. She was identified as one of Management Today's top 35 women under 35.
Submitted on Thu, 09/26/2013 - 14:45