'I just want to go to school': how Afghan law continues to fail child brides
Herat, Monday 11 May 2015
Afghanistan's weak legal system has led to a routine reliance on informal justice mechanisms that commodify young women and leave them vulnerable to abuse.
Benefsheh sits on a couch, shy and dressed in school uniform, as she recounts her divorce. At the age of seven, her parents married her off to a 16-year-old boy in exchange for a wife for her brother.
Benefsheh was abused by her husband and mother-in-law, who would beat her and force her to do hard manual labour in the mountains.
When her brother eventually decided to rescue her from her in-laws, her husband claimed compensation: her younger sister, Shogofa. After fleeing their village close to the Iranian border, Benefsheh and Shogofa, now 13 and 11, settled in a women's shelter in Herat city.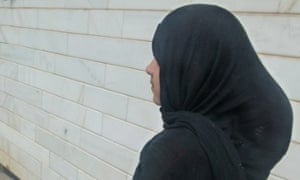 A preference for traditional forms of mediation over the formal justice system has reinforced the commodification of women in Afghanistan, where child brides are commonplace. Photograph: Suraya Pakzad
Young girls are routinely used as barter to settle disputes or arrange marriages between families in Afghanistan Despite attempts from the international community to strengthen the country's formal justice system, where the legal age of marriage for women is 16 (18 for men), Afghans still largely favour traditional forms of mediation over the country's legal courts.
Particularly outside cities, most Afghans continue to view the formal legal system as corrupt, unprofessional, inefficient and slow. Instead, village councils and tribal elders mete out justice based on religious tradition and mutual agreements.
Suraya Pakzad, founder of the Voice of Women Organisation, which runs the shelter in Herat, said a formal court case can take several years and be costly in bribes and transportation to the city. In comparison, traditional mediation is faster and less corrupt.
"At least in the informal system, you come up with some solution," Pakzad said. "It's easy, it's cheap and it's on your doorstep."
For women, however, the informal system does not necessarily provide justice. Economic dependence and cultural pressure prevent many women from seeking divorce or criminal retribution, effectively granting male perpetrators of domestic violence impunity.
A recent UN report detailed how the Afghan court system fails to provide acces for women, with the result that only 5% of domestic violence cases observed in the report ended in criminal prosecution.
According to Human Rights Watch, 95% of girls and 50% of women in Afghanistan's prisons are jailed for moral crimes, such as running away from home to escape a violent husband.
That did not deter Fereshteh from fleeing her violent marriage in Nimruz province two years ago, at the age of 12. When her brother eloped with a cousin to marry for love, community elders decided that Fereshteh should be given as reimbursement to alleviate his family's shame. She married her 27-year-old cousin, who already had a wife and children.
She was treated as "a gift to the enemy", she said, and beaten for two months until her brother, who had escaped to Herat, convinced the police to step in and remove her. Seven months after her divorce was finalised, her former husband continues to threaten her family.
"I just want to go to school," said Fereshteh. "My advice to parents is not to marry off their children. They should ask their children what they want."
International donors have pushed for legal reform in Afghanistan, and are supporting a bill to eliminate viloence against women. The law, which would ban underage marriage and protects women's shelters, has been challenged by some conservative politicians who view the bill as un-Islamic.
Afghanistan has also ratified the UN convention on the elimination of all forms of discrimination against women.
In its 2014 national action plan on women, peace and security, the UK government pledged to help raise awareness of women's rights in Afghanistan, "across provinces through workshops and media, and to support human rights defenders working on women's issues".
Western countries have succeeded to some extent in creating awareness of women's rights, said Pakzad, who in 2009 was named as one of the world's 100 most influential people by Times magazine
However, she added, donors and Afghan organisations alike had missed a "golden opportunity" to strengthen women's rights by neglecting isolated women in rural areas, who might suffer more, in favour of well-educated, urban women's activists.
"If you are healthy, if you are good, we have a workshop for you," said Pakzad. "There is nothing for the sick people."
Equally problematic, she said, is that men have largely been ignored, although they ultimately are the ones who have to change behaviour and drive societal change. "If you don't work with [men] and change their perspective, it is not going to go well."
Pakzad said: "We need training in how to deal with traumatised husbands, with traumatised fathers. If you were not traumatised, you would never cut your wife's nose off or slice her face."
Benefsheh's brother now recognises that it was wrong of his father to trade his sister so that he could marry. Now divorced, he is working as a labourer in the hope that he will able to support his two sisters outside the shelter.
"The girl should be old enough to marry, and should be happy with it," Benefsheh said.