Syria's female refugees facing poverty, harassment and isolation
Women are the sole providers for one in four Syrian refugee families, struggling to provide food and shelter for their children and often facing harassment, humiliation and isolation, according to a report from the UN high commissioner for refugees.
More than 145,000 Syrian families now living in Egypt, Lebanon, Iraq and Jordan are led by women, it says. The civil war in Syria has torn apart families and communities, forcing almost three million people – mostly women and children - to flee the country.
Those interviewed for the report, Woman Alone – the Fight for Survival by Syrian Refugee Women, said they lacked resources, jobs, food, housing, protection and security. One in three reported they did not have enough to eat.
"For hundreds of thousands of women, escaping their ruined homeland was only the first step in a journey of grinding hardship," said António Guterres, the UNHCR chief. "They have run out of money, face daily threats to their safety, and are being treated as outcasts for no other crime than losing their men to a vicious war. It's shameful. They are being humiliated for losing everything."
Angelina Jolie, UNHCR special envoy, said: "Syrian refugee women are the glue holding together a broken society. Their voices are an appeal for help and protection which cannot be ignored."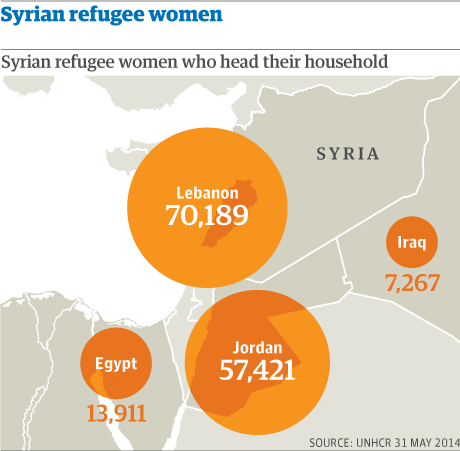 Syria Women Refugees MapWEB 080714
The report authors took testimony from 135 women, aged 17 to 85, this year. All had primary responsibility for their families, and most became the head of their household after the war in Syria began in March 2011.
"Whatever their circumstances, all the women interviewed had to navigate an unfamiliar and often unnerving new environment," said the report. "Most faced a daily struggle to find enough money to pay the rent, buy food and basic items, or access services such as healthcare. Their stories were often heartbreaking: mothers having to spend hours getting their sick children to a hospital for treatment; mothers having no choice but to let their children work, or leaving their children alone to go find a way to make money."
One in five of the women had found paid work; a quarter received cash assistance from aid agencies. One in three said they were too scared or overwhelmed to leave home, and 60% expressed feelings of insecurity. Most were worried about their children's security.
Many reported regular verbal harassment. "A woman alone in Egypt is prey to all men," said one. Another said: "I was living in dignity, but now no one respects me because I'm not with a man."
Shaden,25, from Aleppo, now living in Beirut with three small children and five months pregnant, reported sometimes leaving the children alone when going to buy food. She knew no one in the neighbourhood and was worried about who would take care of the children when she went to hospital to have her baby. "I worry about food, I worry about safety, I worry if the war comes to Lebanon. I'm all alone. If something happens to me, what will happen to my children?"
Faten, 70, now living in Cairo, said she went without food to provide for her granddaughters, aged nine and 11. "I don't eat until they're full. I'm happy to eat a toasted piece of bread to make sure they get enough to eat."
One woman said she had moved house four times because of sexual harassment by landlords; others reported being offered free accommodation in return for sexual favours. But almost three in four reported positive treatment by landlords.
Most said they felt stressed and fearful about their new circumstances and responsibilities. Iman, 42, left her home and business in Aleppo to flee to Cairo. "My role as a woman has completely changed," she said. "I was independent and strong in Syria. I was free. When I got here my life went down to below zero."
The report concludes: "Syria's refugee women are struggling to make ends meet in an unfamiliar and sometimes hostile environment. Many face a double trauma: the pain of losing or being separated from their families, coupled with the distress of living in exile alone."
It makes a number of recommendations to host governments and aid and development agencies, including easing restrictions on working, and providing childcare, community centres and safe spaces. It calls for increased funding by the international community for Syrian refugees.
Submitted on Mon, 07/14/2014 - 12:37